Well, I have many.
MANY.
OK, but just one for today. I could probably make this like a weekly feature and not finish until sometime in 2008.
Drumroll please.......I'm a big time procrastinator. I know, I know, we ALL say that. I am though in a BIG, BAD way. See this picture? We got that crack in MARCH. The picture was taken in APRIL. the crack is STILL THERE.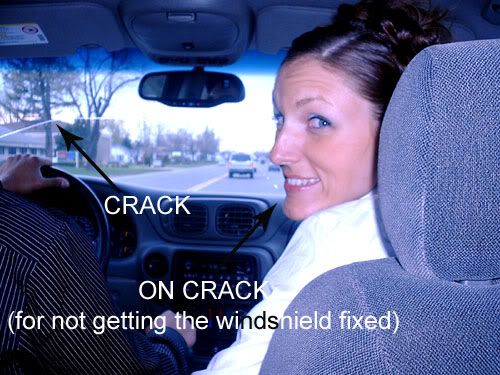 (and I apologize for looking so psychotic in the pic)
Phone calls, paying the bills, going to the post office...they are just a huge pain in the ass. They all get done but man do I put it off until the last possible instant. This is why I made such a big deal about starting my Christmas shopping so early, I am normally *starting* right around this time. I have a todo list a mile long and if I put my mind to it, I could probably knock half of it out tomorrow.
If I put my mind to it.
Which I won't. Because I have more important things to do (like lay around, read a book, read blogs, scrap, wash dishes, change diapers, feed the kids, etc, etc, etc) Seriously, I'm gonna make at least one important phone call tomorrow...and if I make one,
maybe
I'll make another. And the post office is a must for tomorrow too...yeah, gotta do the PO too.
Seriously, bug me tomorrow and make sure I've done it.
Thanks bunches.